Twan Russell to serve as spokesperson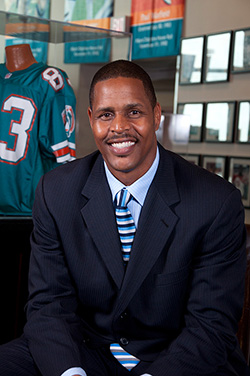 (Fort Lauderdale, Fla.) – Former Miami Dolphins and founder of the Russell Life Skills and Reading Foundation Twan Russell will be the spokesperson for the year-long celebration of the Broward Education Foundation's 30th Anniversary, announced Jorene Jameson, president and CEO of the Foundation.
"Twan's passion and advocacy for youth literacy align him with the mission of the Foundation," said Jameson. "We are thrilled to have such a community-minded and caring individual as our spokesperson for this milestone year."
Russell, who serves as the Miami Dolphins director of youth and community programs, says he was eager to support this cause. "I've seen firsthand what can happen when youth do not receive the proper education," he said. "That's why I want to be part of any effort that supports students and their ability to get a quality education." Russell, a product of the Broward County Public Schools and son of a 30-year Broward County middle school teacher, says that learning how to read was a big part of his overcoming his life growing up in the inner city.
The anniversary celebration will begin with a reception, presented by Houghton Mifflin Harcourt, on January 24, 2013, at the Pier Top, Hyatt Regency Pier 66, 5:30-7 p.m. A campaign to identify outstanding graduates of Broward Public Schools also will be launched at the January event. Nominations for the Broward Education Foundation Hall of Fame Distinguished Alumni Awards will be accepted through May 1, 2013. Nominees must be alumni of the Broward County Public School System who have left an incredible imprint on education, made significant contributions to society or have been recognized for outstanding achievement in any field.
A group of former executive directors and board members of the Foundation, and community leaders will serve as the host committee for the launch event. Host committee members include:
Gale Butler, Maroone/AutoNation; Ginny Miller, Miller Construction; Dr. Dorothy Orr, Broward Public Schools; Kim Bentley, JM Family; Mike Long, Broward Partnership for the Homeless; Anne McMichael, retired; Margarita Castellon, AT&T; Dr. Abe Fischler, Nova Southeastern University; Joe Cobo, Cobo Cobo, Welzien, Bowers & Co.; Maureen Dinnen and Ann Murray, School Board of Broward County; Alan Levy, Great American Farms and Broward Workshop; and Tracy Clark, Broward County Public Schools.
For more information, call 754-321-2030, visit www.browardedfoundation.org, like our Facebook page and follow us on Twitter.