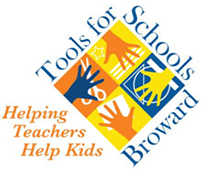 Please help a child in need by donating school supplies. Your donation will help our students and teachers get what they need to have a successful year.
Request a Collection Bin for Your Drive
Host a Back to School Supply Drive at your Business
To house a collection bin for collection of school supplies for your office or business, sign up online or call Mari-Lee Baxter at 754-321-2034.
We will deliver the bin to you and pick it up when it is full. The bins will be delivered the week of July 10th. Tools for Schools Broward will contact you to confirm delivery.
What Our Students Need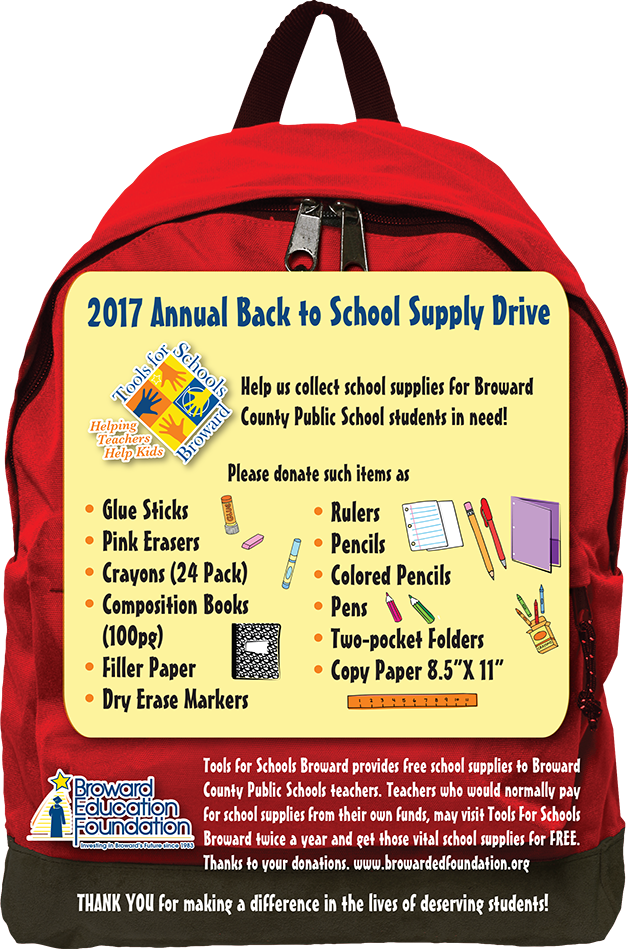 Tips to Run a Successful Drive
Before you get started, consider the following:
Determine what type of supply drive you want to host. Examples include:

Full School Supply Drive – collecting all of the items on the Most Needed Supply List.
Focusing on one specific item – collecting just no. 2 pencils, pink erasers, glue or crayons
Collecting new backpacks filled with school supplies

Get creative with the collection! Organize competitions, create teams and award prizes to those who collect the most.
Use Social Media to promote your campaign with pictures.
Choose a length of time and dates during which you will host the supply drive. You can run your campaign for a day, a week, or even a month. We usually recommend two weeks.
Select a location for the collection bin. We recommend a high-traffic and accessible area.
Before the drive begins:
Send out an email, memo and/or voicemail announcing the kick off dates
Include news about the upcoming drive in invitations, newsletters and/or meeting announcements
Distribute flyers to your staff
Let the Community Relations or Public Relations Department know about your drive
During the Drive:
Make sure your boxes are placed in high-traffic areas
Promote the Most Needed Supply List
Create fun themes, such as "Casual Crayon Fridays" to encourage and reward team donations
Keep participants informed by tracking process and celebrating success
Announce when the drive is reaching its end (about one week prior) for an extra kick
Contact Hector Javier, Store Manager, Tools for Schools Broward at 754-321-9020 or email hector.javier@browardschools.com for picking up collection bin.
Donate online or by check made payable to Broward Education Foundation, 600 SE Third Ave, 1st Floor, Fort Lauderdale, FL 33301.
Make an impact on a child's life with a $50 donation. Your $50 contribution will fill one backpack with much needed school supplies.
Start Shopping:
You just need to use the following login information when checking-out:
Username: KINF-LAUDERDALE
Password: Chalk
For School Supplies Click Here: School Supplies
For Art Supplies Click Here: Art Supplies
For more information on the Back to School Supply Drive please contact:
Mari-Lee Baxter, Program Director
Broward Education Foundation
600 SE 3rd Ave
Fort Lauderdale, FL 33301
754-321-2034 or email mari-lee.baxter@browardschools.com
Tools for Schools for Broward Contact Information:
Hector Javier, Store Manager
Tools for Schools Broward
2300 W. Copans Road, #5
Pompano Beach, FL 33069
754-321-9020 or -9021
hector.javier@browardschools.com