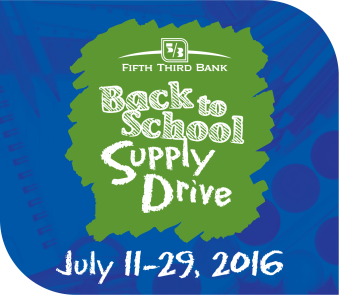 (NAPLES, FL) –  Fifth Third Bank  has announced a project to provide local schoolchildren with free school supplies and backpacks. This is the bank's eighth year to hold the school supply collection.
From July 11 through July 29, Fifth Third Bank will place donation bins in its Collier, Lee, Charlotte, Sarasota, Manatee, Pinellas, Hillsborough, Broward and Palm Beach County locations. The bank will donate a total of 1000 backpacks for the supplies. Supplies and donations collected in Collier will be distributed in conjunction with The Salvation Army of Collier.
Fifth Third Bank locations in Lee, Charlotte, Sarasota, Manatee, Pinellas, Hillsborough, Broward and Palm Beach County will work closely with the local education foundations in those counties to distribute the supply donations collected during the drive.
"It's very exciting to see the program in its eighth year. We know we are making a difference in the lives of tomorrow's youth by providing them with the tools and materials they need to start the school year off right," said David Call, President and CEO, Fifth Third Bank (South Florida).
For the nearest Fifth Third Bank location, visit www.53.com.  Suggested items include #2 pencils, spiral notebooks, 8- or 24-count boxes of crayons, washable glue or glue sticks, anti-bacterial wipes or hand sanitizer, gallon- or sandwich-size zip lock bags, etc. For more information or to help support the school supply drive, call Fifth Third Bank at (239) 449-7088 or The Salvation Army at (239) 775-9447.
About Fifth Third Bank
Fifth Third Bancorp is a diversified financial services company headquartered in Cincinnati, Ohio. The Company has $142 billion in assets and operates 1,241 full-service Banking Centers, including 95 Bank Mart® locations, most open seven days a week, inside select grocery stores and over 2,500 ATMs in Ohio, Kentucky, Indiana, Michigan, Illinois, Florida, Tennessee, West Virginia, Pennsylvania, Georgia and North Carolina. Fifth Third operates four main businesses: Commercial Banking, Branch Banking, Consumer Lending, and Investment Advisors. Fifth Third also has an 18.3% interest in Vantiv Holding, LLC. Fifth Third is among the largest money managers in the Midwest and, as of March 31, 2016, had $303 billion in assets under care, of which it managed $26 billion for individuals, corporations and not-for-profit organizations. Investor information and press releases can be viewed at www.53.com. Fifth Third's common stock is traded on the Nasdaq® Global Select Market under the symbol "FITB." Fifth Third Bank was established in 1858.  Member FDIC, Equal Housing Lender.