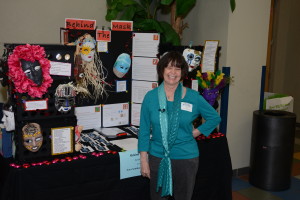 (Fort Lauderdale, Fla.) — Teachers from Sunrise, Pompano, Deerfield Beach, Miramar, Fort Lauderdale and every city in between in Broward County brought their most innovative classroom projects to Broward Education Foundation's 18th Annual Teacher Idea Expo sponsored by Bright Star Credit Union and held at Nova Southeastern University.
Pompano Beach High School language arts teacher Sandy Melillo displayed her project, "Behind the Mask," which allows students to learn and understand the historical significance of a mask. As part of the lesson they create their own masks to represent their external and public persona, and write a poem on the back that reveals what lies underneath. "A mask has historically been a symbol to both represent and disguise a particular culture, individual, or even a corpse," explains Melillo.
At McNab Elementary School in Pompano Beach, 28-year teacher Andria Ammons created "Cooperative Brain Power," which blends teamwork, technology and academic games, such as Brain Pop, Jr. and BrainPOP, to teach students about working cooperatively in groups. "Students learn real facts about a specific topic, work together to create a special project or use academic games to explore and practice new knowledge," explained Ammons.
"Our teachers are always looking for ways to help their students learn and reach high levels of achievement and become empowered, engaged citizens. This Expo showcases their creativity," said Raymond Monteleone, chair of the Broward Education Foundation which provides the more than 250 grants, valued at about $ 170,000, that have been distributed this school year to teachers in Broward County public schools.
The Expo, hosted by NSU's Fischler School of Education, allows educators to gather ideas for creative classroom projects, participate in continuing education and receive inspiration from charismatic speakers. This year's keynote speaker was Brian C. Haggerty, educator, author, motivational speaker and creator of his groundbreaking "PLEASE" program.
"This program showcases the innovative ideas developed by some of our most imaginative Broward County teachers for use in the classroom," said Donna P. Korn, The School Board of Broward County. "I congratulate them and our business partners for their commitment and support of this very successful program."
More than 60 projects for students from Pre-K through high school featured at the Expo were funded by Broward Education Foundation grants. The projects covered a number of subjects including technology, history, art, health, math, language arts, community service and more. Teachers attending the Expo can get all the information they need to bring the projects to life in their respective classrooms.
"I appreciate the many involved businesses that help make the Broward Education Foundation's many programs a winning investment," said Superintendent of Schools Robert Runcie. "Working together, Broward County will be able to garner the rewards of our successful partnerships for years to come – a more talented, skilled workforce, and a better place to live, learn and raise a family."
Idea EXPO teachers also had the opportunity to during the EXPO to attend dynamic presentations by Fischler School of Education faculty, including, "Step Away from the Desk!", how teacher behavior affects student behavior and success; and "Sailing on the Stream," integrating STEM (Science, Technology, Education and Math) and reading. There were also continuing education seminars offered by NSU and the University of Phoenix.
Sponsors of the Expo, in addition to BrightStar Credit Union, were Forum Publishing Group, Wells Fargo, the Ford Motor Company Fund, the cities of Hollywood and Hallandale Beach and State Farm.
"Each year our teachers outdo themselves with successful, motivating classroom strategies and methods that lead to increased learning outcomes, " said Thomas P. Severino, president/CEO of the Foundation.  "These teachers are willing to share successful ideas with fellow teachers within Broward County Schools."
###
About the Broward Education Foundation:
Established in 1983, the nonprofit Broward Education Foundation (BEF) aligns with Broward County Public Schools by providing support for innovative teaching to advance Pre K-12 achievement; critically needed educational materials for Title I school teachers and students, and scholarships for qualified high school seniors. Each year, the Foundation contributes more than $2 million to Broward County schools, serving as the catalyst for educational excellence.
For more information, call 754-321-2030, visit www.browardedfoundation.org, like our Facebook page and follow us on Twitter.
About Brian Haggerty:
Haggerty coined the acronym PLEASE, which stands for People, Life, and Experiential Awareness Skills Education, as the name for a specially constructed curriculum aimed at grades 6 thru 12.  The program, first introduced at Belleville High School in Essex County, New Jersey, focuses on manners, etiquette and developing masterful people skills for success.  His energizing and inspiring underlying message to kids is that "… you can be all that you dream you can be."
The PLEASE Program is being implemented at Lyndhurst High School in Lyndhurst, New Jersey, having begun on January 5, 2015.
Belleville's principal, Russell Pagano, stated that "… the actual impact of Brian and his program have had on increasing respect, civility, kindness, responsibility and creating a positive atmosphere, has reduced the number of bully incidents and made Belleville High School a better place for all.  Not only does it teach the most valuable of life skills, it also serves to build confidence in a student's ability to put his or her best face forward and to be the best they can be."
Haggerty's book, a concise and accessible guide to manners for students as well as people in the business world, is in its 2nd printing.  According to Chris Mairiano, CEO of Fort Lauderdale based BCH Enterprises – the corporate umbrella of Haggerty's company – "Brian has emerged as the nation's leading expert on Cell Phone etiquette."
About Nova Southeastern University:
Situated on 314 beautiful acres in Fort Lauderdale, Florida, Nova Southeastern University (NSU) is a dynamic, fully accredited research institution dedicated to providing high-quality educational programs at all levels. NSU is a not-for-profit independent institution with an enrollment of 27,000 students. NSU awards associate's, bachelor's, master's, specialist, doctoral and first-professional degrees in a wide range of fields. NSU is classified as a research university with "high research activity" by the Carnegie Foundation for the Advancement of Teaching, and it is one of only 37 universities nationwide to also be awarded Carnegie's Community Engagement Classification. For more information, please visit www.nova.edu. Celebrating 50 years of academic excellence!
About NSU's Fischler School of Education:
Serving more than 8,000 students in approximately 40 countries, Nova Southeastern University's Abraham S. Fischler School of Education is one of the largest schools of education at an accredited university in the United States. When we opened our doors more than 40 years ago, we shattered the barriers of traditional learning, causing a ripple effect that can still be felt today. Online, On-site, Or on our modern, 18-acre campus in North Miami Beach, Florida, our ideas, our approach, and our programs—found nowhere else in the nation—inspire our students to inspire the people around them to move the world.