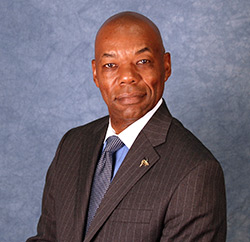 (Fort Lauderdale, Fla.) – Dr. J. Preston Jones, who serves as interim dean of the H. Wayne Huizenga School of Business and Entrepreneurship, has become a member of the Broward Education Foundation Board. In this capacity, Dr. Jones provides strategic leadership to the school in support of NSU's mission, core values, and 2020 vision.
His previous positions at NSU include executive associate dean, associate dean for academic affairs, executive director of master's programs and assistant professor of management, director of M.B.A. programs and assistant professor of management, faculty coordinator for graduate programs, director of the center for entrepreneurship and recruiter. Before entering higher education, Dr. Jones served the Johnson & Johnson family of companies in various engineering and management capacities for more than 15 years.
Former Florida Governor Charlie Crist appointed Dr. Jones to the Florida Technology, Research and Scholarship Board in 2011 for a three-year term. He also serves as president of the Ars Flores Symphony Orchestra. Dr. Jones earned a doctorate and master's in business at Nova Southeastern University, and received a bachelor's degree in electrical engineering from Purdue University.
"We are honored to have such an esteemed educator join our board," said BEF President and CEO Jorene Jameson.
About the Broward Education Foundation
Established in 1983, the non-profit Broward Education Foundation (BEF) seeks private contributions to supplement the public funding schools receive. The Foundation raises support from the private sector and charitable foundations to provide scholarships to college or trade-bound high school graduates who have exhausted all other sources of support, grants to support innovative curriculum in the classroom and free school supplies to teachers in Title I low income schools through the Tools for Schools Broward center in Pompano Beach.
BEF was ranked as the 10th best education foundation in the nation for its effectiveness in generating and sustaining financial resources and distributing funds to students in the district, according to a 2012 study conducted by the Dewey & Associates consulting firm. During the 2011-12 fiscal year, the Foundation contributed more than $1.7 million in scholarships, school supplies, teacher grants and other school support.