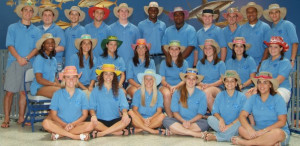 The Broward Education Foundation will be honoring Mike Roland for his many years of dedicated service to the Broward County Public School District's Student Leadership Initiative at our 2015 Hall of Fame Awards. Mike will be officially retiring in January of 2017. Please leave a note to share with Mike on the occasion of his upcoming retirement. To leave a note, please click on the "Write a new entry" button below this message.
Thank you.
29 entries.
Mr. Roland, it's crazy to think that my love for leadership started at such a young age, but because of you it became a lifestyle for myself. You touched so many lives and it will never be forgotten how much you've done for students not only in our county but across Florida and even past that. My sophomore year when I really dived into Leadership at McArthur High School I had the pleasure of attending Broward Student Leaders day where I got to hear so many wise words come from your end, and that was just the beginning. Being at SFLTC/CEALT I was blessed with learning so much about just being a better person from your lessons and from those you've taught yourself. My senior year I got to know you on an even greater level through my participation in SGA/ NHS/ FFEA, and I couldn't have been more honored to learn from you. I really want to say thank you for helping me figure out what I really want to do with my life, you've been a huge part of my life and I am forever eternally grateful. On behalf of McArthur High School, thank you for everything you did for us. We love you and wish nothing but happiness for you in your next journey. You will be sincerely missed! And probably for the millionth time, thank you from myself, Deziree Lara
Mr. Roland, I was going through my bookcase last night and read "Seuss-isms for Success", without realizing it was a gift from you from Camp, when I saw it was from MHR, I smiled and knew it was a sign I needed to write something in your yearbook. You have impacted my life tremendously and I will forever be grateful. After Garci sent me to my first SFLTC, I was hooked. I cherish all the memories and lessons from SFLTC, Camp Eagle, FASC, and am truly thankful for the friendships formed through those experiences. Thank you for all the time and effort you have put in through the years. Thank you for all the stories and songs (which I still tell and sing). But most importantly, thank you for this: "If you're 5 minutes early, you're on time and if you're on time, you're LATE!". All My Best, Shaydz
Thank you for everything you have done for all the SGA meetings , the camps, the fun activities, we really appreciate it brought to you from the Deerfield beach high school SGA
It is often said that we stand on the shoulders of giants, this statement is true today as I think about this great Angel Mike Roland. Mr. Roland has spoken into my life many, many times. I have had the privilege of serving on this student government executive board at South Broward High School. Many times Mr. Mike Roland has spoken into my life and if he had not been such an angel I might have not became the man that I am today every single day I think of different things that he has said to me.....I would not take the time to state every single thing but one thing that does comes to my mind...One day I was helping him load something into his car and I asked him how do you see me and he says " I see a young man that can do anything if only he put a little effort Into it".
Mr Roland, Thanks you so much for being such a huge influence in all of our lives. I still tell stories about you and your advice. You whole heartedly gave your time and love to so many of us. Going to your SFLTC and Camp Eagle changed my life. Before SFLTC I was a lonely depressed kid who got into SGA because any amazing teacher advised me to. She took me to your camp and it honestly changed my life. Before your camp I was bullied but through your leadership training I went on to be the student body president at my school and worked very hard to end bullying. Again, thank you for everything you've done for us! Your simply amazing.
Wow. Just wow. Thank you so much for everything you did for me and then for the students I continue to teach. Your impact has reached so much farther than you can imagine. "A toast, to Mike Roland. The richest man in town!"
Mr. Roland, before SFLTC I was just a kid that thought I was cool because I was elected class president. Your lessons on leadership, education, life, and love helped shape me into the person that I am today. I'll never forget the pride I felt representing my school at camp for 3 years, and the lessons that I took back with me. I'll never forget the joy of becoming a junior counselor and having the opportunity to impact future generations of student leaders. All of us Eagles fly higher because we were lifted up by you. Thank you for everything. Most Sincerely, Cabin Boy
Mr. Roland, words cannot explain how grateful I am for you and it is clear by the other entries that I am not the only one that carries this sentiment. The love that you have for Student Government is incredible and it shows in all that you put into every single convention, meeting, or fireside chat that we have. I am so honored to have worked closely with you as BCASC Secretary in the 2013-2014 school year and I hope you know how much you will be missed. Your guidance, support, and witty personality will be hard to be without, but I know that you are excited to retire to your mountain 🙂 . I wish you all the best Mr. Roland and thank you, thank you, thank you, for all you have done for us. Again, you will be sincerely missed.
Mr. Roland, I cannot begin to thank you for all you have done for me. The programs you run have touched the lives of many and help create friendships that stand the test of time. Whenever someone tells stories about SFLTC, BCASC or any of the other organizations you have a hand in people begin to smile and have so many found memories. Also, the lessons you teach have help propel us to be the best we can be. You have taken Student Leadership to another level. You create Student Leaders that become Leaders. I still sing the songs and have my magic notes. Many of the lessons I use daily in my own life and use them when teaching others. I am proud to say I am a Starfish that you saved by taking the time to throw them into the water and give a chance. It made a difference to this one. You tell us to ask ourselves, " Did I Do My Best?" Mr. Roland you have exceeded that question and have done your best and help mold the future which molds the future. If you ever want to take a Lion Hunt make sure to give me a call it would be my honor to go with you sir. Thank You!! Triple C
At SFLTC we received a pin in the shape of a starfish, this pin came along with a story. Mr. Roland sat in front of 200+ students and told us about a boy who walked along the shoreline throwing starfish back into the sea, an older man approached him and questioned why, how could throwing one starfish back into the ocean when there were a thousand along the shore make a difference? The boy picked up another starfish threw it in to the sea and said well it made a difference to that one. Mr. Roland, you have been that little boy to what I believe a more than a thousand starfishes . You have not only taught but proven that once you love what you do it will never be considered as work. In my lifetime I hope to come close to what you have done for so many of us, you have inspired us to go out pick up a starfish and make a difference.
SFLTC is more than a leadership camp. It forever changed my life, the way I approach challenges, and the way I have been able to accomplish so much in my life. And I know I'm not the only one! I have a whole group of friends who we all attended and some have gone on to raise thousands of dollars for children's fundraisers, work for the government, on their way to become politicians, or became SGA advisors themselves to help our future leaders in the making! None of this would have been possible if not for Mr. Roland. We always thought of you as the "Father of SGA," and I'm sure you will continue to do impressive things in the future! Enjoy your retirement Sir! You MORE than deserve it!
SFLTC provided leadership development opportunities that taught lessons and life experiences that have helped to shape me as a young adult. These experiences reinforced the importance of hard work, integrity, teamwork, and many other outstanding character traits. Congrats on retirement and thank you for your many years spent serving the South Florida community.
Mr. Roland, your years of passion, leadership, and example are not in vain. You've changed and touched the lives of so many young people. I've asked myself, how can a man carry this difficult and time consuming job with no complaints? But I think the question that has to be asked now is, how is this job going to carry on without you. You are the true definition of a mentor. We will never forget your devotion towards students, Mr. Roland. We love you.
Thank you for your many contributions to our community. Your hard work and dedication to the development of the next leaders in Broward County is well appreciated. I remember like it was yesterday when I won the Pepsi Scholarship which was made possible through your leadership program. 10 years later I am now a proud college graduate and the Vice President of a non-profit organization. Thank you! God Bless
Mr. Roland I want to thank you for allowing me to learn from your leadership camp. It showed me how to be a better leader and I still use techniques learned there in my everyday life in work as a firefighter. SFLTC was a great experience I will "NEVER" forget.
Mike Roland, It was truly an honor to be a part of such a wonderful camp and group of leaders. I still keep in touch with fellow alumni and I have to say that I believe programs like these help to shape and motivate the youth in their future endeavors. Thank you for inspiring the young and for being a role model to so many. From all of us who took part of such a special program we thank you.
Mr. Roland, thank you doesn't begin to cover how grateful I am to have known you and to have had camp in my life. You taught me so much, and your words have stuck with me over the years. You once told me, life is what happens while you're making plans. Nothing has proven to be more true. Congratulations on your retirement! I recall you telling me a while back that you wanted nothing more than to be in a house in North Carolina with no cable when you retired. Hope your dream comes true.
Educator. Visionary. Driving Force in Education. Friend. Mike Roland's career positively impacted countless educators, students, staff members, teams, institutions, and organizations. "Mufasa," your influence and inspirational leadership is far greater than even "solar power." Your legacy, far greater than even the next generation of leaders developed over decades of selfless service. Thank you.
Mr. Roland- You changed my life by leading SFLTC and I will always be grateful for your stories and the time, love, and energy you poured into tomorrows leaders!
Mr. Roland, it was a great pleasure and irreplaceable experience in my life to have had the opportunity to participate in SFLTC 2012 and other SGA conventions. The information I learned have greatly aided me in my journey of life. Thank you for your commitment to students and believing in them to achieve great things.