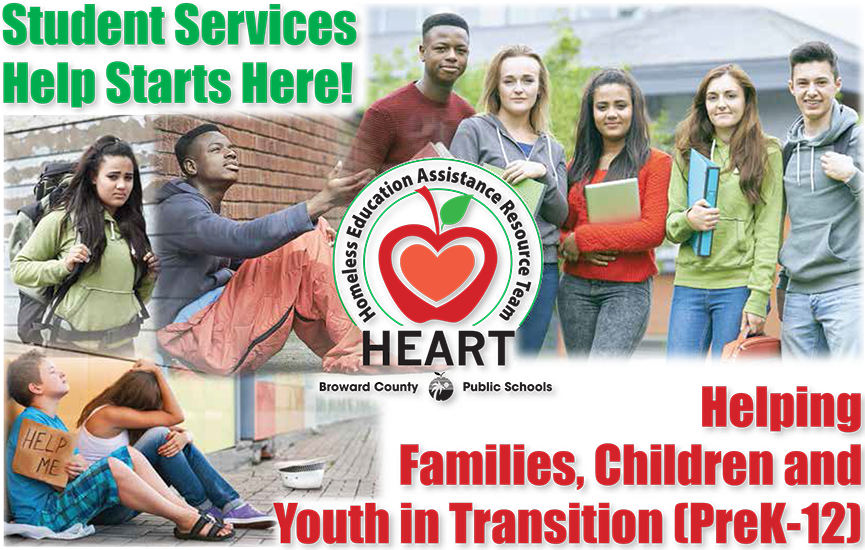 Did You Know?
A Federal law, called the McKinney-Vento Homeless Assistance Act, seeks to help eligible families experiencing transitional living situations?
What is the main goal of the McKinney-Vento Law?
The main goal is to remove barriers that might prevent students living in transition from enrolling, attending and succeeding in school.
What is a transitional living situation?
Some examples include living "doubled-up" sharing the housing of friends or family due to a loss of housing or income needed to maintain housing. Other examples include living in a family or youth shelter, living in a motel, car, park or abandoned building due to loss of housing.
What can HEART help eligible families and youth with?
School supplies and uniform items
Coordination of transportation to school (certain rules apply)
Referrals to school and community services (e.g. School Social Worker, Family counseling, medical, dental and mental health referrals etc.)
Retrieval of immunization records and State of Florida birth certificates
After school care services (K-8th)
Summer Camp opportunities
Cap and gown rental at no cost to graduating high school students and verication letters needed to apply for college and the FAFSA (Free Application For Student Aid)
Broward County Public Schools (BCPS) Statistics
Total number of students enrolled in the BCPS during the 2013-2014 school year was 282,929. Of those students, 2,323 were identified as homeless as follows:
444 (19%) resided in shelters
1,484 (64%) were doubled-up
108 (5%) resided in a car, park, campground, bus or other public place
264 (11%) resided in a hotel or motel
23 (1%) were awaiting foster care placement
Of the 2,323 students identified as homeless, 318 (14%) were unaccompanied homeless youth (increased by 64 from 2012-13)
(Source: 13-14 Survey 5 Federal State Indicator format matched to Student Demographics as of 12-18-14, FDOE)          
For more information, please call 754-321-1566