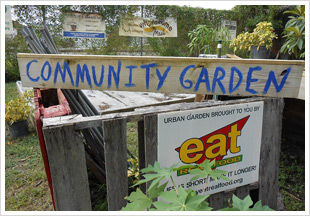 In an effort to encourage kids to eat more fresh vegetables, the Broward Education Foundation has started their second year "Garden Delights-Team Up for Healthy Choices" with more than $85,000 in donations from the Health Foundation of South Florida, Wells Fargo, Flamingo Road Gardens Nursery, Urban Farming Institute and City of Hollywood. The goal of the program, according to Thomas Severino, the president and CEO of the Broward Education Foundation is to "improve students' attitudes about nutrition, encourage them to eat more fresh vegetables and fruit and engage parents as well as in the choice for healthier foods at home."
Nineteen low income Broward schools are participating in this program by designing, installing, maintaining and harvesting vegetable gardens.  Garden Delights includes lessons for students about gardening and healthy eating. They will learn skills that incorporate math, science, reading and writing.  Parents also are involved in this integrated, curriculum-based program.  Partnerships are in place with Marando Farms, the Florida Department of Agricultural and Consumer Services, STEM and Instructional Services, as well as other departments throughout the School Board of Broward County.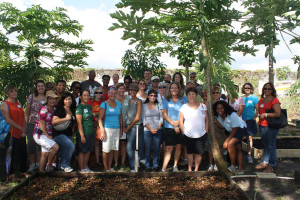 Broward Schools participating are:
Attucks Middle in Hollywood
Bennett Elementary in Fort Lauderdale
Boulevard Heights Elementary
Colbert Elementary in Davie
Crystal Lake Middle in Pompano Beach
Deerfield Beach Elementary
Dillard Elementary in Fort Lauderdale
Discovery Elementary in Sunrise
Endeavor Primary Learning Center in Lauderhill
Hollywood Park Elementary in Hollywood
Lake Forest Elementary in Pembroke Park
Liberty Elementary in Margate
Maplewood Elementary in Coral Springs
Miramar Elementary
Orange Brook Elementary
Palm Cove Elementary in Pembroke Pines
Rock Island Elementary in Fort Lauderdale
Sunland Park Elementary
Tropical Elementary in Plantation
Each school will receive up to $2,000 to install edible gardens; up to four classroom teachers and their students will participate. Teachers will attend five trainings where they will learn about gardening, nutrition integrating curriculum into their classrooms. A master gardener will assist with the installation of the gardens and monitor the care.

For further information on Garden Delights Program, please contact our office at 754-321-2032 or email Coco Burns.
View our Garden Delights Photo Gallery, Click HERE
"The Broward Education Foundation has collaborated with our donors and the Broward Public Schools in our Garden Delights program to enhance student learning outcomes in science and nutrition. School gardens provide curriculum, student-centered learning experiences that increase our students' knowledge of, value for and advocacy of healthy living. Our teachers and students are actively participating in their local neighborhood food systems under the guidance of master gardeners as growers and consumers. The program encourages school and community to eat more locally grown fruits and vegetables but also to appreciate and play a more active roles in the decisions required for living healthy lives." Thomas P. Severino, President and CEO