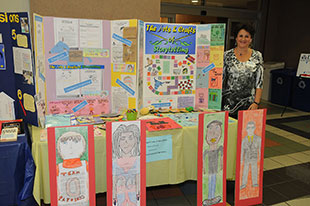 Disseminator and Adapter grants are available for Broward teachers who want to adapt award-winning programs in their classrooms. Through the Broward Education Foundation Teacher Grant Fund, we are able to award IMPACT grants to teachers who submit original and innovative projects.
Anyone who applies for an IMPACT grant must agree to share their successful idea with fellow teachers at the Broward County Schools annual IMPACT Idea Expo.
Find out if you are eligible for either a Disseminator Grant or Adapter Grant below.
IMPACT Grants Frequently Asked Questions
If you don't see an answer to your question or would like more information on our grants, please contact Coco Burns at Colette.Burns@browardschools.com
Find the right grant for you
Each year we award 40 grants to teachers and school-based administrators for their submission of original and innovative projects. You may be eligible for one of the following grants:
We award 20 Disseminator grants each year. The grants allow teachers to further develop and disseminate exemplary programs that they have developed within their classrooms.Disseminators are required to showcase their projects and present workshops to interested colleagues from Broward at the annual IMPACT Idea Expo held in February.
Disseminator Grant Deadline – Monday, April 3, 2017.
We award 200 Adapter grants each year. The grants are awarded to teachers who wish to incorporate disseminator programs into their own educational curriculum.Adapters learn about successful programs either through review of the IMPACT Idea Catalog or attendance at the annual IMPACT Idea Expo.
Adapter Grant Deadline – Tuesday, February 28, 2017. The deadline for this application has passed.
All Broward teachers who want to add innovation and creativity to their classrooms should attend this EXPO! It is an academic trade show that provides educational workshops while featuring more than fifty displays illustrating effective and dynamic teaching strategies.Mark your calendars!
The Broward Education Foundation's
21st Annual IMPACT Idea Expo

February 2018